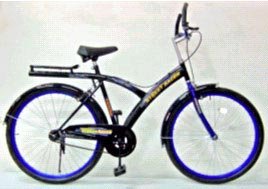 Frame: Unique design mountain bike with integral carrier. Ergonomically Designed Oversized MIG Welded. Unmatched strength built-in design
Fork: UNI-Crown MIG welded fork. Extra strength built in to design.
Handle: Sturdy mountain bike handle with extended stem & Attractive bull horns for joy ride. Synthetic resin grips for better riding comforts.
Brakes: Ultra attractive V-cantilever brakes. Friction-free cable casing for effective braking.
Mudguards: Steel extra wide – ribbed section. Attractive plastic cap for protection at ends.
Wheels: 26 x 1.75 with steel Rims.
Chain Wheel & Crank: 44T Steel BPC
Saddle: Comfortable PVC top, PU padded MTB saddle.
Pedals: Synthetic fiber molded wider body single piece reflectorized body pedals.
Stand: Steel black powder coated axle mounted side stand. Sturdiness built in to the design.
Graphics: Attractive graphics styled to match the taste of today's youth.
Colors: Model available in attractive shades from special synthetic paints.
Mentioned Price are only approx price and subject to change without prior notice as per company policy or applicable tax change. For exact price of Street Racer contact nearest authorized Hero Cycles dealer.