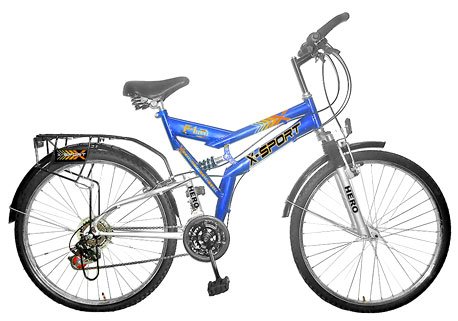 Frame: Revolutionary Mountain Bike frame built with State-of-the-art technology as per latest International trends. Two-piece design frame with maintenance-free full suspension system. Oval tubing for unmatched strength & rigidity.
Fork: Double Damping Super Shox suspension system. Maintenance-free design.
Handle: Sturdy mountain bike handle with extended stem. Soft synthetic resin grips. Attractive bull horns for joy ride.
Brakes: Specially engineered caliper brake system.
Steel reinforced resin moulded brake levers. Friction-free cable casings for effective braking.
Wheels: 26 x 1.75.
Chain Cover: Uniquely designed metal chain cover, painted
Chain Wheel & Crank: 44T Steel BPC
Pedals: Specially designed resin moulded anti-skid body reflectorized pedals.
Saddle: Ultra cushy PU molded saddle.
Stand: Sturdy, axle mounted auto locking side stand
Mudguard: Steel U-shaped mudguards with steel stays.
Carrier: Extra sturdy wire carrier. Design to match the style of frame.
Colors & Graphics: Model Available In Colorful Shades. Attractive Graphics Styled To Match The Taste Of Today's Highly Demanding Youth.
Model also available in 21 / 18 / 15 speeds.
Mentioned Price are only approx price and subject to change without prior notice as per company policy or applicable tax change. For exact price of X Sport – F1 Series contact nearest authorized Hero Cycles dealer.