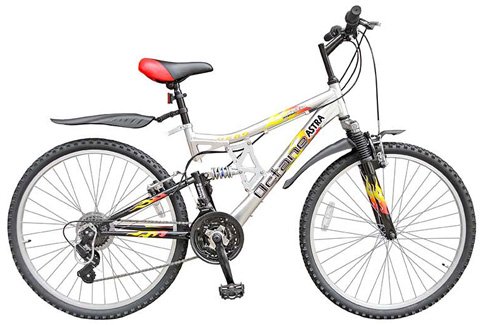 Frame: Stylishly Designed Ultra Light weight all Aluminum Super – Shox Suspension Mountain Bike frame. Two-piece design frame with maintenance-free full suspension system. Built from high strength Aluminum alloy AL-6061. Specialized heat treatment T4 / T6 for Unmatched Strength & Flexural Rigidity. Beautiful Pulse TIG welding an added attraction.
Fork: Suspension Type Mountain Bike Fork
Handle: Ergonomically designed Mountain Bike Handle. Soft & comfortable Synthetic Resin Grips.
Brakes: Ultra effective V-Cantilever brakes. Steel sheet formed brake levers for effective braking. Friction-free cables for an effective braking.

Hubs: 36 Hole – extra smooth Hubs.
Chain wheel & Crank: 24 x 34 x 42T Chain wheel Crank. Built-in Resin molded attractive trouser guard.

Saddle: Comfortable MTB style PU padded saddle. Quick Release system for quick adjustment of seat height
Pedals: Reflectorised wider body resin molded MTB pedals.
Stand: Side stand. Sturdiness built into the design.
Graphics: Attractive Graphics styled to match the taste of extremely demanding Youth of today.
Mentioned Price are only approx price and subject to change without prior notice as per company policy or applicable tax change. For exact price of Octane Astra contact nearest authorized Hero Cycles dealer.