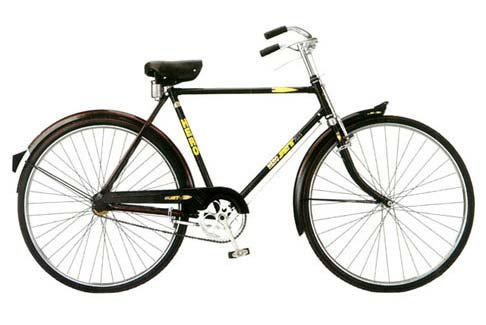 Frame: New Geometry for More Strength & Durability.
Fork: Blade With Flattened D-Section & Thicker Ends For Enhanced Strength & Matching Attractive Crown.
Handle: Extra raised bar in extended lug with reinforcing bridges & added strength & durability.
Grips: Superior / soft synthetic rubber grip with attractive styling.
Brakes: Curved front stirrup for better spring effect & better breaking with moulded grey synthetic rubber shoes.

Mudguards: Stylish mascot on front mudguard and reflector on rear mudguard.
Hubs: Improved quality of, cups & axle etc. for better performance & prolonged life.
Chain wheel & Crank: 48T / 44T X 7 Crank, Steel CP.
Saddle: New extra strong COMFO saddle. (Other saddles also available on demand).
Pedals: Sturdy Pedals with attractive, anti skid durable rubber blocks.
Lamp Bracket: Sleekly cut pattern in CP steel.
Chain Cover: Stylishly engineered, durable quarter chain cover.
Rim: 28 X 1-1/2, West wood with radial knurling on beads for better Tyre grip.
Tyre: 28 X 1-1/2, Black .
Tube: Moulded tube with a special feature of easy to maintain valve body.
Colors & Graphics: Attractive modern graphics & aesthetics.
Mentioned Price are only approx price and subject to change without prior notice as per company policy or applicable tax change. For exact price of Jet Plus Gold – Men's contact nearest authorized Hero Cycles dealer.