Sporty motorcycles of all make have main gear shift lever of toe only type because it takes less shifting time because of its position. but it becomes  difficult for riders to save their shoes from damage as they pull up the gear lever. Gear shift lever wrapped in rubber to save feet but its hard enough in some bikes to make a hole after some weeks. In sandals it becomes painful to ride this type of bikes as it harm your feet top skin. Some companies use soft gearshift which does not damage shoes but makes them dirty daily. It needs proper cleaning daily. This problem happens not only in sports shoes but leather shoes also get rough from specific place.
For rider even skip these bikes due to this problem as this force rider to buy shoes after every 4-5 months.
Twist Gear Lever
During gear shifting up shoe remain below shift lever. Shoe shape is curvy and metal lever rod put its tip on the shoe curve. You may get rid of problem by twisting gear a little in upward direction. That will make lever rod putting pressure in more area on the shoe and reduce worn-out.
Change Gear Lever
You can change your motorcycle's toe gear shift/ half lever from any private mechanic near you with any full shift lever of any other regular bike. Mechanic had to do some adjustment. It does not fit like original but it works fine. You should skip this solution in new motorcycles as it may collapse your manufacturer guarantee due to parts modification policy.
Buy Good Branded or special Shoes
Good quality leather shoes worn a little as compare to low quality leather or sports shoes. They need a little daily maintenance/polish to keep the impression away from them.
Shift Cushion Solution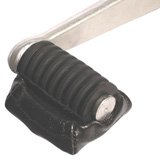 Shoe damages during shift lever in up direction. You can save your shoe by applying a cushion at its bottom. You can fix it by tying or sticking it with the rod.
Cushion Wrap Solution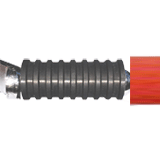 Use any black hand-bar grip or LPG gas pipe or sponge based housing pipe used to route car A/C in small cars. These are very soft and will not dirt/color shoes. Put your gear shift lever inside that pipe and fix the pipe tying or sticking it on the lever.
In all above solutions you need to tie or stick the cushion on the lever. Don't use electrician tape or anything of that kind. Shoes are hard and it removes the tape only after 20-30 shifts or in single ride. After that it will pick the dust from atmosphere and dirt your shoes. You should also service your bike at proper interval and take extra care of smooth gear shift. Use good quality oil for smooth shifting. You can also mix above solution with each other to make your gear shifting totally hassle free and just concentrate on your bike rides.